The 2016 National Championships & Olympic Trials is finally over, and although there were some serious low points for us, overall it turned out to be by far the best national championships we've had as a team.
The quick summary in order of lifting:
Jes Liao (48kg) – 57/70x (bombed with 70 CJ)
Blake Barnes (69kg) – 115/146
Alyssa Sulay (58kg) – 76x (withdraw due to injury)
Sam Kleinschmidt (75kg) – 89/113 (7th place)
Jason Marks (77kg) – 120/150
John Downey (85kg) – 136/170 (3rd overall, 3rd in CJ)
Chelsea Ryan (69kg) – 85/105 (7th place)
Amy Hay (75kg) – 97/117 (3rd overall, 3rd in CJ)
Ariel Stephens (69kg) – 89/115 (3rd overall, 3rd snatch, 3rd CJ)
Jessica Lucero (58kg) – 93/115 (1st overall, 1st snatch, 1st CJ, 4 American records)
As you can see, we had a pretty rough start on Friday with two lifters failing to total, one due to injury on her first snatch. Not only is this hard for the individual lifters to stomach, it can be really difficult for the rest of the team afterward to stay focused and confident. This was also not a good start for our women's team national championship run—I tried to quit thinking about the numbers right then and just let the chips fall. Blake Barnes had a good day in the 69As, going 5/6 with 115 and 146.
Things turned around quickly by Saturday morning with our rookie 75 Sam Kleinschmidt going 5/6 with 89 and 113 and obviously more in the tank. She showed great composure and confidence in her first national championships, and proved to everyone that she's going to be the real deal.
John Downey endured the single worst session of weightlifting I've ever seen in my life in the 85As and came out the other end with medals. It was a complete bloodbath with 10 out of the 16 lifters bombing out. Not only does this produce some seriously bad energy in a session, but it creates long wait times between lifters' three attempts and makes staying focused and energetic incredibly difficult. Because the timing is also totally unpredictable, you can't simply go back and take a planned wave of lifts back up to your next attempt—you're stuck in a purgatory and periodically taking lifts to try to stay warm and keep your head in the game. John ended up only making his openers, which were obviously lower than his best meet results, and well below what he's capable of now, but it was enough for a bronze medal in the clean & jerk and overall behind the two well-established lifters James Tatum and Anthony Pomponio.
Chelsea Ryan came into this meet after having bombed out for the first time at the 2015 American Open. As any lifter who's bombed out in a big meet can attest to, it's tough to get that out of your mind and stay focused and confident. She opened with an 85kg snatch… and missed it. She repeated… and missed it. She got her head together despite being up against it, and I'm sure being bombarded with the memory of bombing out in her last national meet… and smoked it on her third attempt. She then came out and made 2 of her 3 clean & jerks, finishing on a strong 105 to give her a 190 total, which is a 7kg national competition PR.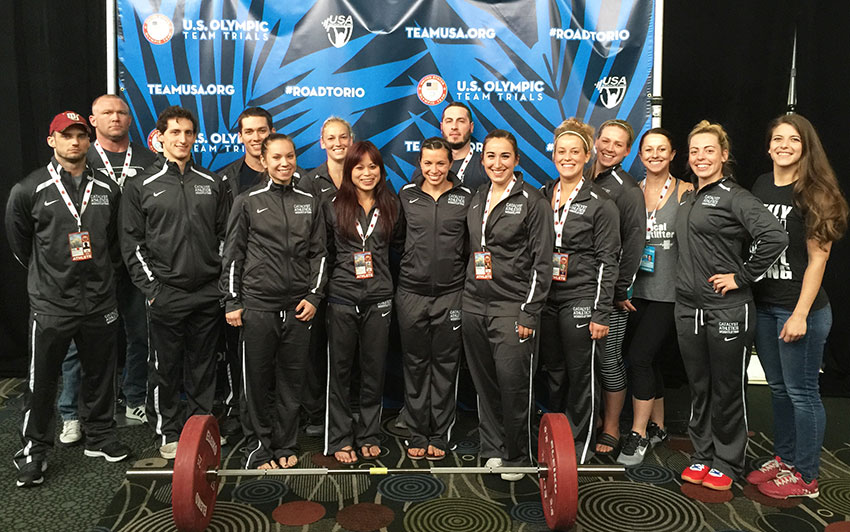 2016 Catalyst Athletics national team
Amy Hay kicked things off for us on Sunday in the combined 75/75+A session. Her training for the month leading into the meet was rough to say the least—among other things, she was plagued with a shoulder problem from catching a falling gymnast and wasn't able to snatch nearly as often or heavily as she needed to. She snatched 94, 97 and then 100… but dropped it after a couple seconds. Her opening clean & jerk at 114 was pretty solid, but she was feeling pretty exhausted, so we went to 117, which turned out to be no problem. We jumped to 121 to give her a better chance at an overall silver medal, but she rushed the clean and dropped it forward. However, her performance was still enough for a bronze medal overall and in the clean & jerk.
Sunday ended with the women's Olympic Trials session—15 of the best female weightlifters in the country across all weight classes all in a single session. We had both Jessica Lucero and Ariel Stephens in this session. Mary Peck and her coach Tom DiStastio were kind enough to swap platforms with us so our two lifters could warm-up alongside each other.
Jess was aiming for one of only two available spots on the Olympic team, and the pressure was really on to make huge lifts. Ariel is coming of a long, brutal year of rehabbing from a couple serious injuries. Needless to say, this session was incredibly intense and stressful for everyone.
Ariel smoked her opening snatch at 89, but missed her second at 92 when the 30-second buzzer went off right as she was lifting. She couldn't quite hold onto 93 on her third even though it was locked overhead. She made a strong 115 opening clean & jerk despite being incredibly frustrated and disappointed after snatches, and we went to 118 to secure silver, but she missed the clean on her first try, and then barely missed the jerk on her final attempt. Although we know she's capable of much more, it was a great comeback to competition in a very high-pressure session.
To have any chance at making the Olympic team, Jess had to break American records in the snatch, clean & jerk and total… and that still wouldn't guarantee anything. The 58kg category is one of the most competitive in the world, and accordingly, to make the Olympic team as a 58 requires an incredible performance. Jess missed her opener at 91, just 1kg under the current American record that she holds… and missed it. Aimee bumped her to 93 because it had to be at least 93… and she missed it. Her third snatch attempt was easily one of the most intense moments of the entire weekend—she either broke an American record or bombed out. Jess showed the kind of grit coaches all dream of in their athletes and snatched 93 on her last attempt like it was an empty bar, breaking her own American record and staying alive for clean & jerks.
Jess smoked her opening clean & jerk at 112kg to break the American record total that had stood for 15 years, then pushed the jerk forward on 115 and missed it. Jess showed again what she's made of and smashed 115 on her final attempt, breaking the American record clean & jerk by 2kg, and the total again by a total of 8kg, giving her a total of 4 broken records in a single meet.
At this point, I knew our women's team would at least win the silver medal based on the predicted placings from the start list I had calculated before the meet. I was sure the mighty East Coast Gold, who has been dominant in team competitions for many years, had beat us once again. But the announcer called them up for silver, and we knew then we had won our first team national championship.
It was great again to have Matt Foreman and Mike Gray there helping coach—they are an absolutely essential part of the team, and their presence makes the experience infinitely more enjoyable.
This national championship was the final meet in the current era of Catalyst Athletics—as most of you know,
we've shut down the gym and are relocating to Oregon next month
—so it was only fitting that Aimee's and my coach, Mike Burgener, was there at his first nationals in 8 years. It was great to see this thing come full circle, and I couldn't have asked for a better way to close the page on this era.
Thank you to everyone at the meet and at home who was supporting us—we're very aware of it, and appreciate it very much.