A Closer Look at USAW Teams & Coaches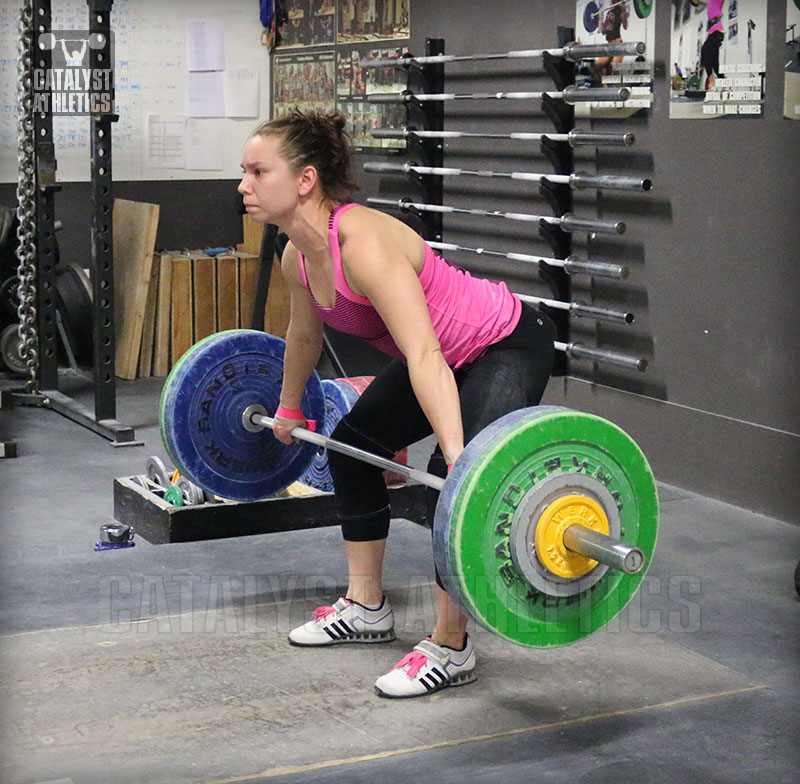 Floelite published an article showing the number of lifters at the 2016 National Championships qualified by each of the top coaches and teams. Many of the numbers were incorrect, and some have been corrected, but more importantly, I think the numbers showed an incomplete picture of the landscape. I have some more numbers and information to finish that picture. (Note here that I didn't recount for all teams, the just the top teams from the original article.)
First what you have to understand is that the definition of a team within USAW rules is vague to say the least. In most sports, a team is a very clear, precise entity—it's a group of athletes all training and competing together under a single head coach and organization. Take baseball, football, basketball, etc… there's no question in any of these cases who competes for whom, and how that all works. One player doesn't train with one team and then represent another on game day.
In weightlifting, the team concept is becoming even more convoluted in the age of the internet because people are taking advantage of the ability train lifters remotely, or even to simply add them to a team while literally having zero coaching interaction with them (these are what I call mercenary lifters). In other cases, a single USAW team is actually comprised of multiple coaches and gyms that in reality have very little to do with each other.
This is not a totally new thing. Teams like East Coast Gold, Coffee's Gym, Team Florida, and even the team for which I originally lifted, the now defunct Team Southern California, have done this in the past and continue to do it (multiple gyms and coaches representing a single team, that is).
These things all mean that when looking at how many lifters a team has at a national meet, there are a lot of factors the numbers don't show.
In my mind, a team is exactly what it's always been—a group of athletes who all train together, primarily in a single location, and under the direction of a single coach. Catalyst Athletics now has two primary coaches, Aimee and me, but each one of our lifters is coached by one of us primarily and the other secondarily, and one of our team women is coached by our former Mike's Gym teammate, Mike Gray, in our San Diego affiliate gym. Each lifter either trains with us here locally, or in a couple cases, is coached by us remotely with daily phone/text/video interaction on programs we write for them. This is the only kind of team I'm interested in coaching.
Additionally, the premise of the original article was apparently to look at how many lifters coaches were
qualifying
for nationals. I'm sure it's true for some other coaches as well, but if we're talking about qualified athletes rather than ones who are actually lifting, our number would increase by 3. Athletes get injured, get pregnant, have life complications, etc. that can force them out of a competition. I suspect I'm not the only coach and we're not the only team to often have fewer lifters actually compete than who can (this has happened quite a lot for us the last 2 years, in fact).
The article also mentioned that it will be interesting to see which coaches and teams continue to qualify lifters rather than who just pop up and then disappear in a year or two. So let's look at the last few years too and get a head start on this.
Finally, a question needs to be asked: What is the goal of a given team or coach? Wanting to coach a small number of lifters to the highest level possible is a very different purpose than trying to get as many lifters to qualify for nationals as possible, and the results will obviously reflect very differently in these kinds of numbers.
Following are some additional numbers to consider.
First are team counts for the National Championships and American Open starting with the 2012 American Open. This shows the teams who have been in the game already for a while with national level lifters. (Note that the per meet averages include only meets that a team attended—for example, Catalyst Athletics and Cal Strength did not attend the 2014 AO).
Total & Average Lifters Since 2012 AO

| | | |
| --- | --- | --- |
| Team | Total Lifters | Average/Meet |
| East Coast Gold | 151 | 18.88 |
| Cal Strength | 75 | 10.71 |
| Catalyst Athletics | 71 | 10.14 |
| Texas Barbell | 59 | 9.83 |
| Coffee's Gym | 56 | 7 |
| Mash Mafia | 36 | 7.2 |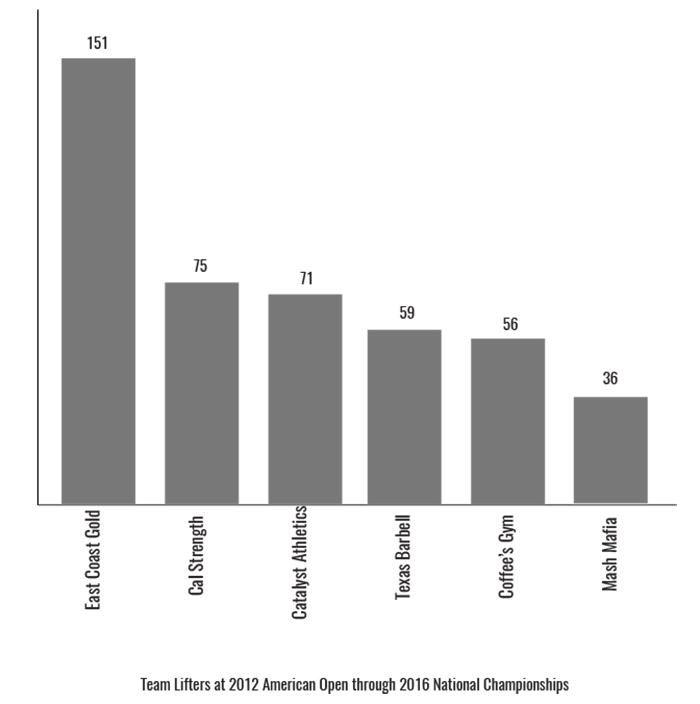 We can also take a look at the team medals each team has earned in that time period (team awards are based on points scored by a team's lifters, determined by placing of each lifter). Unfortunately, USAW is missing some records of this, so these counts are incomplete, but it will still give you a general idea.
Team Medals (incomplete)

| | | | |
| --- | --- | --- | --- |
| Team | Women | Men | Total |
| East Coast Gold | 5 | 3 | 8 |
| Coffee's Gym | 5 | n/a | 5 |
| Catalyst Athletics | 4 | n/a | 4 |
| Cal Strength | 1 | 3 | 4 |
| Texas Barbell | n/a | 3 | 3 |
| Mash Mafia | n/a | 1 | 1 |
Next, I broke down the 2016 National Championships numbers a bit to see how many of a team's lifters, in absolute and relative terms, were in A sessions.
Lifters in A Sessions in 2016 Nationals

| | | | |
| --- | --- | --- | --- |
| Team | Total Lifters | A Session Lifters | A Session % |
| East Coast Gold | 19 | 17 | 89% |
| Mash Mafia | 19 | 16 | 84% |
| Cal Strength | 14 | 10 | 71% |
| Catalyst Athletics | 10 | 8 | 80% |
| Texas Barbell | 10 | 8 | 80% |
| Power & Grace | 7 | 3 | 43% |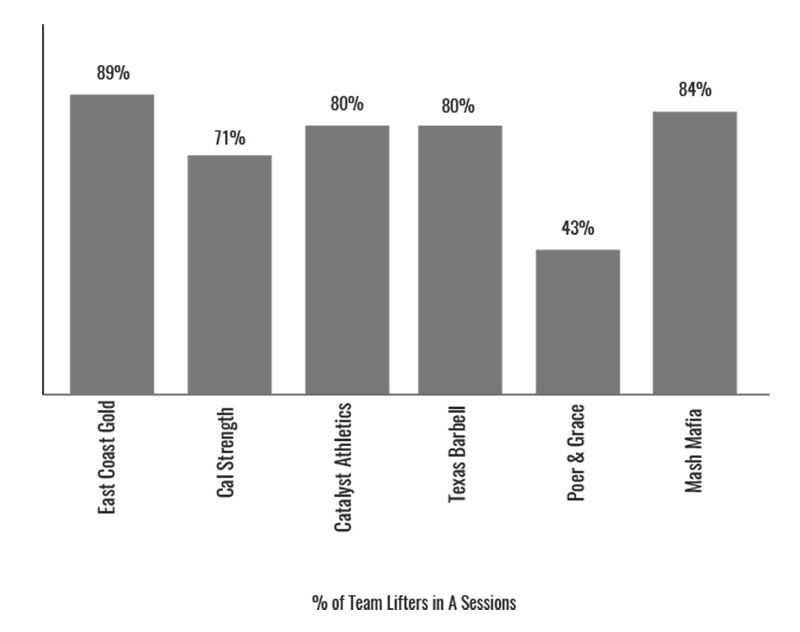 Next, I took a look at the coaching of each team's lifters—that is, how many of a team's lifters are actually coached by the team's head coach (the coach is the lifter's primary coach—lifters can have two coaches, one primary and one secondary, and then a third competition coach). To be fair, what's officially on record with USAW is not always true in reality, and this goes both ways - in some cases, a coach does all the work and gets none of the official credit, and in others, coaches are listed as primary who have little or no interaction with a lifter. Some of these numbers I know for a fact reflect this inaccuracy, and I'm taking Spencer Arnold's word that he's the primary coach for all of his team's lifters even though he's listed for only 4 of the 7.
Lifters Coached by Team Head Coach

| | | | |
| --- | --- | --- | --- |
| Coach | Team | Lifters | % of Team |
| Spencer Arnold | Power & Grace | 7 | 100% |
| Greg Everett | Catalyst Athletics | 8 | 80% |
| Dave Spitz | Cal Strength | 10 | 71% |
| Ursula Garza | Texas Barbell | 6 | 60% |
| Travis Mash | Mash Mafia | 9 | 47% |
| John Coffee | Coffee's Gym | 2 | 29% |
| Leo Totten | East Coast Gold | 2 | 11% |
If we take a look at Catalyst's online programs, we've helped over 30 more lifters qualify for senior nationals and the American Open, over a dozen for other countries' nationals, and another dozen for junior or university nationals. We're just not one of the teams out there who puts such lifters on our actual USAW team roster.
Taking a look at all of these different figures, even from a single competition, at least to me, paints a very different picture than just the number of lifters from each team or coach. And of course, as was at least mentioned briefly above, there is a lot more going on than can be represented accurately with numbers alone.
---