Lessons from a Legend's Life: Mario Martinez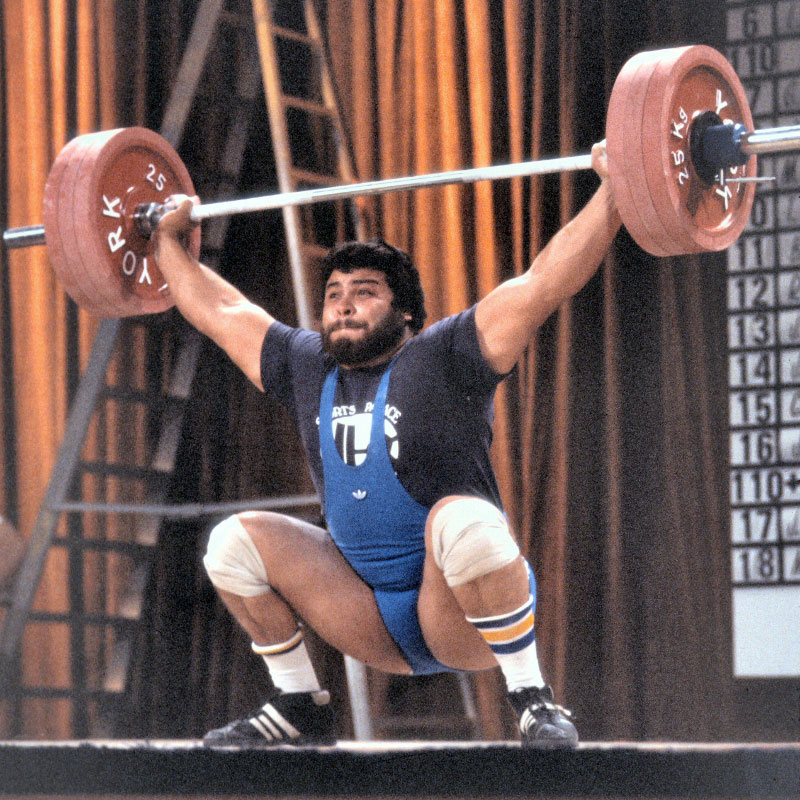 Today is January 15, 2018, and I'm writing this because I found out this morning that Mario Martinez died yesterday at the age of 60.

Many of you are newer-generation weightlifting people, so you might not know who Mario was. That's a shame, because he was undoubtedly one of the greatest weightlifters we've ever had in the United States. I want to use this article to share the story of this amazing champion and pay my respects, because he was an enormous inspiration in our sport for a very long time.

His basic career statistics need to be mentioned, for obvious reasons. A complete list of his championships and records could fill up an entire notebook, so I'll just give you the biggest ones:
- Three-time Olympian (1984, 1988, 1992)
- 1984 Olympic Silver Medalist
- Pan Am Games Champion
- Ten-time US National Champion
- American record holder (188.5 kg Snatch, 232.5 kg Clean and Jerk, 415 kg Total)

He damn near won gold at the '84 Games. He jumped out to a big lead in the snatch and after his successful 3rd attempt C&J at 225 kg, everybody thought he had it locked up. But Australia's Dean Lukin pulled out one of the biggest come-from-behind tricks in Olympic history, nailing a massive lifetime-best 240 kg to move Mario down to silver.

Want to hear a classic weightlifting story you probably don't know? Gymnast MaryLou Retton got a new Corvette after she won gold at those '84 Games. Mario won silver, and his car got repossessed a week later because he had taken some time off from his job to train and had fallen behind on payments. He was working full days as a lot attendant at Budget Rent-A-Car in San Francisco, trying to support his family, and training to win an Olympic medal for his country. After bringing home the medal, he didn't get riches or fame. He got his car repossessed.

He was already 27 at the time. Obviously he had every reason to walk away from the sport. He was getting older (by elite weightlifting standards), he had to work for a living because there was no money in weightlifting back in those days, and he didn't receive the respect he deserved after delivering a medal to our country.

So what did he do? He stayed in the game and made two more Olympic teams, rattling off several more national championship wins and American records in the process. Simply stated, he just kept working and kept winning. The lack of financial support angered him, but it didn't make him quit. He even placed 4th at the '88 Olympics and was still snatching 170 kg when he was 37 years old.

I was lucky enough to compete on the national scene with Mario for the last few years of his career. Every time I saw him at a meet, I was in awe. The first weightlifting magazine I ever got when I was a teenager had him on the cover, for crying out loud. And let me tell you something…he was a mountain. I sat next to him in a van once while we were being shuttled from the airport to a hotel at some national meet, and I was squashed up against the window like a splattered bug (and I weighed about 240 lbs at the time).

I've told this next story a few times in lectures and in articles, but I have to include it here because it's my favorite Mario story. The first really major weightlifting meet I competed in was the 1994 US Olympic Festival. You had to be specially selected to compete in this meet, and it was an all-expenses paid trip to lift with the best in the country. It was a huge deal. I got selected that year, and I showed up in the best shape of my life, 22 years old and ready to crush it.

In the competition, I missed all three of my snatches and bombed out. I had literally never been more dejected or ashamed as I was at that moment. As I walked back into the warm-up room after I bombed, I saw Mario standing there. He was also competing in the meet and he was getting ready to start warming up for his own snatches. Because he was such a hero of mine and I was basically suicidal at that point, I staggered over to him and asked, "Hey Mario, have you ever bombed out of a big meet?" I had never met him and he didn't know who I was, but he was very cool to me. He said, "Yeah, a few times. It happens kid, just keep your head up." It made me feel great to hear him say that.

Then, about ten minutes later, Mario went out there and missed all three of his snatches, also bombing out. I thought about jumping out of the window when he walked back in the warm-up room because I was pretty sure he was going to snap my head off for jinxing him. But he didn't. He just shot me a little sideways glance with a 'Thanks a lot, punk' grin on his face, and that was it.

I think stories like these are the ones that show the brightest side of Mario's legacy. His platform accomplishments were legendary, obviously. Very few athletes will even achieve the things he did. But his character always stood out to me the most. Failure didn't crush him. Obstacles didn't derail him. He didn't lose his composure after setbacks. No matter what kind of tough breaks the weightlifting gods dropped in his lap, he just plowed forward and stayed at the top.

And he always did it with class, dignity, and humility. Mario wasn't one of those self-indulgent athletes who runs his mouth and constantly fights to draw as much attention to himself as possible, as we see all too often in sport. He was a lot like his coach, the legendary Jim Schmitz… modest, encouraging to others, and enthusiastic. He acted the same whether he won or lost.

Jim Rohn once said, "All good men and women must take responsibility to create legacies that will take the next generation to a level we could only imagine." This is how I'll always feel about my memories of Mario Martinez. His accomplishments as a weightlifter are the standard of excellence we all aspire to in our careers, but his attitude and competitive spirit were his greatest contributions to our sport, in my opinion. The lifters from my generation will never forget him, and I hope we all instill the same work ethic and determination into the next wave of US weightlifting that Mario modeled for us.