Interview: Leo Totten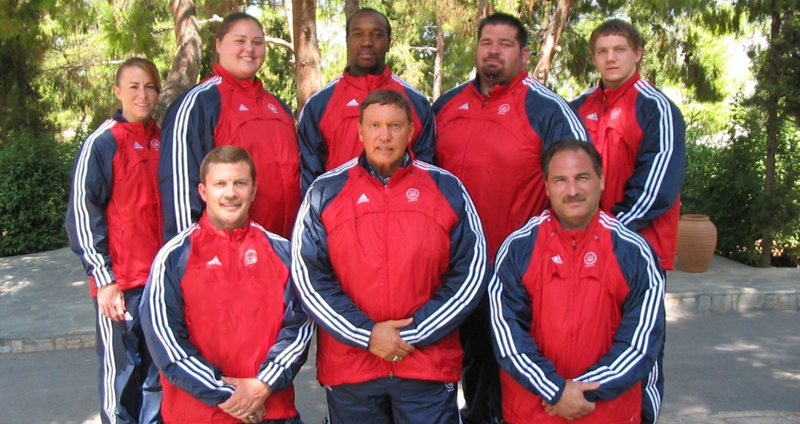 Leo Totten has done more for weightlifting in the United States than the vast majority of people involved in the sport. I realize that's a huge statement to open this interview with, but it's totally appropriate in this case. Leo started his road in weightlifting as an athlete in the 1970s. After rising to the national level and competing in the 1984 Olympic Trials, he decided to retire from competition. In many ways, his decision to end his athletic career was just the beginning of his impact in the game.

When I picked up my first issue of USA Weightlifting magazine in 1989, there was an article about a weightlifting camp Leo had been running on the east coast every year (at Gettysburg College, I believe). I lived in Arizona, so traveling to this camp wasn't possible for me, but I remember thinking, "God, those people are so lucky in the east! They've got lifting camps and everything!" The various training camps Leo set up in the 80s were just one component in his work for the sport. In the early 90s, he founded the East Coast Gold weightlifting club, which has grown to become one of the most successful organizations in the country. He has also served on the USAW Board of Directors, WerkSan Barbell representative, meet director for countless competitions, and a plethora of other coaching/administrative positions that are too numerous to list. In a nutshell, Leo Totten's contributions have had a massive impact on Olympic weightlifting in America over the last 30 years.

I've known the man throughout my entire career, and it's a privilege to deliver his interview to you. He's a vanguard of our sport, and we appreciate his willingness to share his background with Performance Menu.

Describe your weightlifting history. When/how did you start? What were the highlights of your career as an athlete?

Way back in 8th grade, I weighed 83 lbs. I played a lot of sports but realized I just needed to get bigger. (Plus, I got tired of being picked on by my older brother!) So, I went to York Barbell and bought my very first set of weights. While there, I saw some awesome lifting by Bob Bednarski, Tony Garcy, Rick Holbrook and Fred Lowe. Man, if that doesn't get you fired up to lift, I don't know what does! I have been very fortunate in my career to enjoy a good many successes. My most memorable highlight was winning the Junior Nationals in San Francisco being coached by Bob Hise III. After that, he took me out on the town and showed me some very interesting sights in the city! Awesome experience for a young guy and that helped propel me to more great experiences down the road.

Tell us about the history of East Coast Gold, and the success the team has had.

Our team started in 1992 when my first lifter that I coached to qualify for the Nationals didn't have the funding to make the trip. That was the kick start to create the team where the goal was to have the ability to gain sponsors and help those in need get to national events.

The team was developed on the premise that the INDIVIDUAL athlete would profit from being on a team. This would be from a lifting standpoint as well as a financial and social aspect. By providing team support, the athlete could perform better if they didn't have to be concerned with many of the small details that the team could help alleviate. From working in the warm-up room, to developing workout plans, to offering nutritional advice, to helping with rooms and flights, the team is there for the individual. It has turned out that many lifters were seeking such support and wanted to benefit from the team concept. By having the team take care of many of the extrinsic factors, the athlete could really focus on the task at hand - lifting bigger weights!!

As it turned out, the premise sort of snowballed into a much larger picture. We now have "satellite centers" all over the east coast and beyond. The goal of each is to continue to develop coaches and athletes at facilities and working together toward a common cause. It is like an elaborate "feeder" system. Many lifters are out there training alone and have no support at all. By being a member of a team, they are able to train and compete, knowing that no matter what happens, their teammates are there to help and support. This means so much for the individual performances.

We continue to grow and prosper and even though we are a really large team, through constant communication via the web, email and team newsletters, we all seem to stay in close touch with each other. We like to view it as a very large family!

You've made the transition from athlete to coach/administrator in the sport. Describe that process to us. What are the biggest similarities and differences between being an athlete and coaching, or being involved with the federation?

It has been very rewarding to continue to develop the sport by staying involved even after participating as an athlete. There have been a lot of former athletes who have continued to give back and I wish there were even more. I look at it this way. The sport has been really good to me and has given me a lot. It has helped me grow in so many ways. I like to think I am giving back to the sport by continuing to be involved. The transition was very easy for me. I have coached a variety of sports at the high school level so coaching and teaching were my "thing." So, when I retired from lifting after the 1984 Olympic Trials, continuing to coach weightlifting was a natural fit. In fact, my first major coaching assignment I owe directly to Harvey Newton. After the Trials, the USA Weightlifting wanted to run a camp at York Barbell and Harvey suggested that I help coach. Well, 30 years later, I am now finishing up our 30th anniversary camp, this time at the Lake Placid OTC.

From an administrator's standpoint, I have put a lot of time into trying to help the federation by being on the Board as well as several committees. This has been tough to wear many hats, since the team has been growing so much, but it has been beneficial to see the other side of the sport.

Describe some of the obstacles you face, or maybe some things that frustrate you in weightlifting. What kinds of changes would you like to see, either personally or with the sport in general?

I think the biggest frustration I have with our sport is the negativity. I am a very positive person and always have been. But there are many folks in our sport who would rather cut someone else down than work to a positive resolution of an issue. I'm not sure if that makes them feel better or not, but it certainly doesn't help. If I have an issue with someone, I prefer to speak with them face to face to find out what their rationale is for their decisions. Then, if we disagree, we should agree to disagree and move on. Going on social media to bash someone is the cowardly way out. Ironically, it is often the case where the person doing the bashing does nothing themselves to promote our sport.

What are your plans and goals for your life in weightlifting? How do you see your future in the sport? Do you plan to stay involved in weightlifting for many years?

I plan on continuing to help our sport for as long as I am able. After all of these years (17 as an athlete and 30 more as coach/administrator), I still really enjoy the sport and the people. Whether it is a training session, a clinic or seminar or a competition, the day just flies by. When you have a passion and enjoyment in doing something, you barely look at the clock. I have started my own training business, Totten Training Systems, so that I can continue to teach and coach and get the word out about our sport and all the athletic benefits of doing the lifts. I plan to continue with my team as well as continuing to support our sport of weightlifting.

Who are some of your major influences, people who have meant a lot to you? Who are the people you want to acknowledge?

Wow, this is the toughest question yet. There are SO many, I wouldn't know where to start. I have always had the philosophy that if you hang out with good, positive people, it will help raise you up. Over the years, I have been privileged to work with so many great coaches, teachers and friends in our sport that I wouldn't even begin to name names for fear of leaving out someone very special. However, if I were to acknowledge anyone, it would have to be my wife, Patti. She has been an incredible support system for me throughout my career in weightlifting. For all the things I do with our sport and the time spent away, she has always let me "do my thing." I wouldn't have been anywhere in this sport without her unquestioned support. I consider myself to be one lucky man!

Keep doing your thing, Leo. We're the lucky ones because of the hard work you've put into weightlifting throughout your life. Best of luck in the rest of your journey!