Interview: Travis Cooper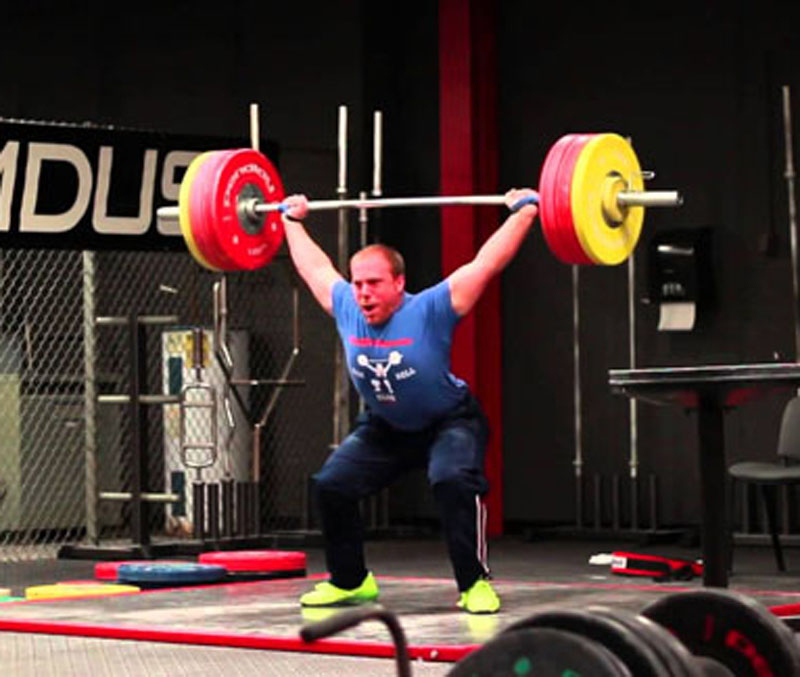 A young kid plays sports in high school. At some point, his coaches introduce him to weight training and he learns that it will make him a better athlete. Over time, his skills in the weight room begin to excel. When he graduates from high school, he doesn't have many lucrative future offers in mainstream sports, so he decides to pursue competitive Olympic weightlifting.

This is the blueprint beginning for many of America's top weightlifters. If this kid lived in Russia or China, his background story would be entirely different. But in the USA, our weightlifters often find their way into the sport through the weight training they did in their school years. This is the case with Travis Cooper. Fortunately for us, Travis has made a serious long-term commitment to the sport. His road to the top has been long and arduous, and now he sits at the top of our national ranking list. Travis is one of this country's finest Olympic lifters. National Champion, Pan Am and World University medalist…these are the accomplishments on his record at this point, and the big shiny Olympic carrot now dangles within his reach.

Travis has fought the wars, including the big one of being a clean American athlete who has to go nose-to-nose with foreign athletes who are taking drugs. This is a prickly topic that you can't truly empathize with unless you've been there. This guy has been there, and we're glad he was willing to share his thoughts with us about it, along with several other important topics. Here's a look at the life of an outstanding American weightlifter.

Tell us about your background. Where are you from, where do you currently live, what's your occupation (if you work in addition to training), family life, what kind of sports background do you have outside of lifting, etc.

I am from Tyrone, GA, a small town about 30 minutes south of Atlanta. I went to high school at Sandy Creek High School, where strength training was emphasized for all sports. Our program produced high level athletes of all sorts and I had the opportunity to go to high school with Calvin Johnson of the Detroit Lions and 2012 Gold Medalist in the triple jump, Christian Taylor. By seeing those guys and others from my high school succeed in sports, it has shown me that there is more than genetics and chance that goes into becoming a high level athlete. I firmly believe that it is the early development of strength that gives an athlete an advantage.

Growing up, I played almost every sport at some point or another, but the main three were baseball, football, and wrestling. Around sixth grade, my parents encouraged me to start lifting weights to get better at other sports. At that time, lifting weights meant the traditional bench press, squat, and other upper body movements.

Describe your weightlifting history. When/how did you start? Who have your coaches been? What championships and international teams do you have on your record? What are your best lifts?

After I had been lifting weights for a while, I realized that I enjoyed the weight room much more than competing in any of the other sports. I was excelling at lifting weights, and I was stronger than all of my peers, especially in the back squat. I realized that I was never going to be tall enough or big enough to be a successful football or baseball player, so I decided to concentrate on wrestling.

In order to prepare for wrestling season, I decided to check out a gym called Velocity Sports Performance to increase my conditioning. Little did I know I would run into my first coach, CJ Stockel. I met CJ and he quickly convinced me to come and lift the next day. He was coaching Chandler Alford, a previous Junior National Champion and resident at the OTC. That was the first day I witnessed a heavy snatch. Chandler snatched about 110kg which was definitely intimidating at first because up to that point I had not met many people that could beat me pound for pound in any exercise (we were both 77kg at the time). I remember going home that night and trying out a snatch in my basement to see how I stacked up. I worked up to 155lbs (~70kg). I'm sure it was with hideous form for a power snatch. I remember it being very painful because it was the first time I had ever done a snatch, so it was a new movement for my shoulders. In my head, I was thinking, "There is no way I will ever catch up to anyone snatching 120kg. That is so much weight!"

From that point on, I kept training and slowly over time I began to see that if I worked hard, I could compete at a high level in weightlifting. I won the school-age nationals in 2005, which motivated me further to pursue weightlifting. Through my career, I have been lucky enough to win the Junior Nationals in 2008, Collegiate Nationals in 2010, and Nationals in 2013. Internationally, I have won the gold medal in the clean and jerk at the 2010 World University Championships and silver overall, as well as the bronze medals in the clean and jerk and total at the Pan Am Championships in 2013. My best lifts are 155kg/195kg/350kg, and in competition 150kg/191kg/341kg.

Please give a basic description of your training. Just tell us as much as you can about your program, weekly/yearly planning, etc.

Currently I am competing for Team MuscleDriver USA. We are sponsored by MuscleDriver and we train under Glenn Pendlay. We train 9 times per week, twice Monday, Wednesday, and Friday and once Tuesday, Thursday, Saturday. Sunday is the day of rest.

Monday and Wednesday we do lighter lift variations and squats in the morning. In the afternoon, we go heavy in some variation of the lifts. We do not use percentages; however, we change the rep schemes that we use in order to change the stimulus.

Tuesday and Thursday are days that are easier to recover from. Generally, we do lighter lifts or power variations with some upper body strength exercises such as push press, bench press, or jerk recoveries.

Friday is always warm-up in the morning, and a max-out session in the afternoon in the competition lifts.

Saturday is a strength day where we focus on squats, push press, and any bodybuilding accessory work that the individual athlete needs to stay healthy.

Of course there is some general long term planning, but with a full competition schedule and so many qualifiers each year, we generally just plan from meet to meet. So the amount of time between meets will determine the type of training we will have for the next meet. So with more than eight weeks between two meets, we will definitely have a longer preparatory phase; however, if two meets are a month apart, the opportunity to have a long preparatory phase is just not logical. So theory and reality often become two different things at a certain point in your weightlifting career.

Describe some of the obstacles you face, or maybe some things that frustrate you in your weightlifting life. What kinds of changes would you like to see, either personally or with the sport in general?

Weightlifting is a tough sport. But the struggle is what makes it rewarding. There are a lot of back seat drivers on forums who seem to have all the answers, which can definitely be frustrating. Often times, people who have not been around the sport very long are critical of training programs of established coaches. One of my main frustrations as an American athlete is when you compete in international competitions, the foreign competitors are open about drug usage. Two things happen here in the US. People who are new to the sport and see our struggles internationally either do not believe that our international competitors are using or do not believe that we are not using. It is definitely a big pet peeve to go to international competition knowing that my competitors are open about having an unfair advantage and then having people watching back home knock on me for not placing higher. I would like to one day see an even playing field with drug testing to see what kind of difference it really makes.

What are your plans and goals for your weightlifting career? How do you see your future in the sport? Do you plan to stay involved in weightlifting after your top competitive years are over?

My ultimate goal is to compete in the Olympics. I would also like to win the Pan Am Championships, and medal at the World Championships in the clean and jerk. One day at a time though, the keys are staying healthy because it takes time and persistence to get to that level.

I always viewed weightlifting as a sacrifice until recently. And what I mean by that is I always thought I would finish school, continue to train until 2016 and then get a real job. I did not view it as a possibility to build a career in this sport.

My views have changed in the past two years and I see the opportunity to open up a successful CrossFit and Weightlifting facility in the future. As of now, I plan to stay in the sport and continue to coach and stay in shape myself!

Who are some of your major influences, people you look up to, etc.? Who are the people you want to thank for your success?

I would not be competing today if it was not for meeting CJ Stockel and Chandler Alford. They introduced me to the sport and shaped my life in ways they probably do not even know.

In 2007, I was asked to be a resident at the Olympic Training Center to train under coach Paul Fleschler. That opportunity took my lifting from the beginner stage to intermediate stage. Over the course of two years, my total increased 50kg.

My current coach Glenn Pendlay has changed my views on technique and training. I feel like my understanding of the sport has progressed and my lifts are now at a much higher level as a result, and I can now consider myself an advanced lifter.

Notable training partners of the past that deserve some credit include Chandler Alford, Jason Bourgeois, and Jake Rubash. During college, I did not have a coach and these guys kept me motivated throughout that period of time.

Catalyst Athletics and Performance Menu would like to thank Travis Cooper for this interview, and also for his tremendous contributions to Olympic weightlifting in America. Best of luck to the champ as he continues his road in the iron game.