Interview: Kelly Rexroad Williams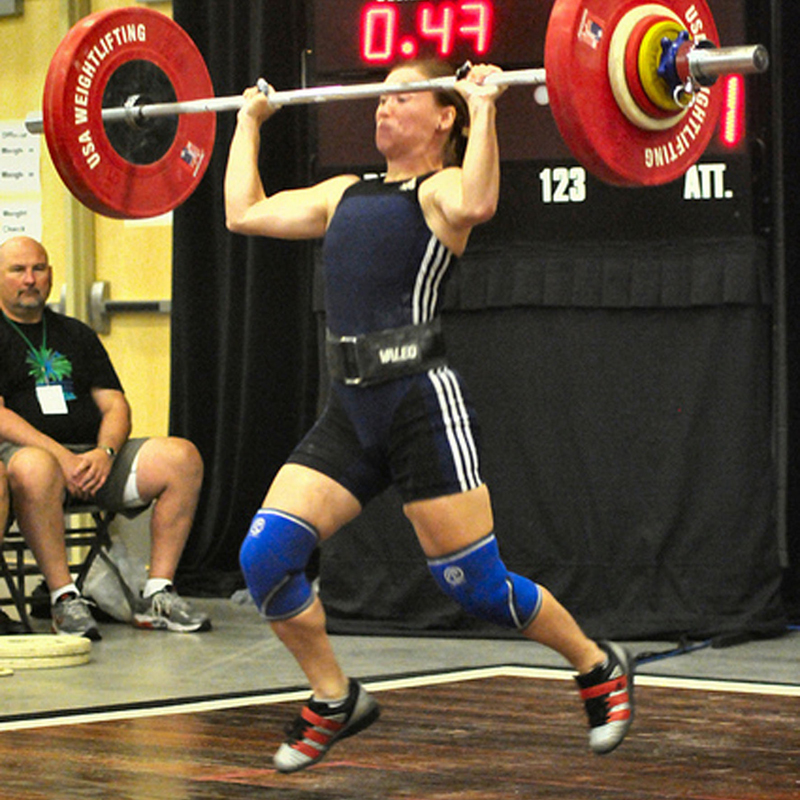 Mileage counts for a lot in weightlifting. Those of you who read this magazine have varying levels of time and experience as strength athletes. Some of you just started training recently, others have been banging away for a few years, and a few of you have likely done enough in the sport to be considered veterans.

When you've been a weightlifter for a long time (especially when you've been actively competitive at a high level), it changes who you are. There are times when weightlifting hurts you, in a variety of ways. But fortunately, there are also many times when it makes you happier, stronger, and better. Anybody who has been slugging it out in this sport for twenty years deserves a special level of respect, and that's why it's a pleasure for us to offer you this interview with Kelly Rexroad Wiliams.

Kelly is an interesting little gal, partially because she's currently doing some of the best weightlifting of her life as her career approaches two decades. In a sport where athletes are often sent into retirement after they turn 25, Kelly has figured out a way to improve her lifetime results even as she crosses the dreaded line into…the MASTER'S category. In addition to all of this, she has been able to get an education, build a career, and start a family. Her story is uncommon, in the best way possible. Therefore, let's take a look into the life of one of America's finest (and longest lasting) Olympic weightlifters.

Tell us about your background. Where are you from, where do you currently live, what's your occupation (if you work in addition to training), family life, what kind of sports background do you have outside of lifting, etc.

My name is Kelly Rexroad Williams. I am 35 years old and I am a victim of loving Olympic style Weightlifting, aka Olylifting. I am a third child, third girl to be exact, which in itself is a story to tell. I grew up in Newnan, GA; a small town southwest of Atlanta. I started weightlifting my freshman year of high school, I was 15. Christy Byrd, Robin's sister (Robin Byrd Goad is amazing; you should Google her if you don't know who she is) cheered with me and asked me to train with her. My first meet was at the Dixie Open in Marietta, GA, I had only been lifting about three weeks at that point. It was both scary and exciting. I won my first trophy that day and I was hooked.

I currently live in Flowery Branch, GA. I teach middle school Health and PE at Sugar Hill Christian Academy. I also coach volleyball and cheerleading. When I am not teaching or coaching, I help my husband, Caleb Williams, at our box, CrossFit Gwinnett and Peak Performance Weightlifting. We also teach Oly-Seminars on the weekends. My son, Rex Polly, is eight and in second grade at SHCA, where I teach. Every Monday night we have family night and watch WWE and usually dine on a Publix rotisserie chicken. We have a 90 lb. chocolate lab named Kilo, which I refer to as my second child since he weighs about as much as I do. Rex and he wrestle all the time…and of course Rex wins-he is a great dog! In between all of that, I train.

Describe your weightlifting history. When/how did you start? Who have your coaches been? What championships and international teams do you have on your record? What are your best lifts?

Weightlifting history…I do have some of that. I started lifting at age 15. I am now 35, and while I haven't competed solid in those 20 years, I have lifted during 90 percent of that…I generally say I have lifted longer than I haven't lifted. I have competed in about 10 countries representing the USA and I have had the honor to compete on the very first four Junior World Teams for Women. I placed third at the Jr. World Championships in Warsaw, Poland and up until this year I still held Junior National Records. Ellen Kercher just recently destroyed them, which I am happy about-they held for 14 years. It's awesome to have them smashed by a friend and fellow Georgian. I have lifted at the Pan American Championships several times and placed third in the snatch in 2010. I have been on four World Championship Teams but was only able to compete at three of them. In 2011, I had to withdraw due to injury two weeks before the meet. That was a hard phone call to make. I had just lifted at the Pan American Games and placed seventh injured. I knew it was the right thing to do by withdrawing, but it was painful...more on that later.

I have done everything on the platform from double bombing out to going six for six at the World Championships in Korea. The challenges of the lifts have always kept me coming back for more.

My best lifts are 75 snatch and 90 CJ (which was just done at the past AO). I compete in the 48 kilo weight class. I currently hold Master and Collegiate Records and have won two Senior National Championships; I have won several Junior National and Collegiate Championships as well. In 2011, Caleb and I were the first couple to both win Nationals, on the same day…one of my proudest lifting moments.

I have for the most part always lifted on Coffee's Gym. John Coffee was my coach and I owe my entire weightlifting career to him. As I got older and learned more about programs (first degree is Exercise Health Science) I did my own programming. Once Caleb and I started dating, he and I wrote our programs and to this day that is the only thing we ever argue about…programming. Luckily for us, Zygmunt Smalcerz came to be the US National Head Coach in 2010. He has written my programs ever since we were introduced at the 2010 World Championships in Turkey. I went out to the OTC shortly after World's to work with him and have him fix my jerk…it is my nemesis. It is still my nemesis, but I have a much better jerk now than I used to and I understand it more biomechanically.

Please give a basic description of your training. Just tell us as much as you can about your program, weekly/yearly planning, etc.

So like I mentioned earlier, I was injured in 2011. My knee was all kinds of jacked up (technical term, people) so after many shots of various kinds, I ended up having surgery. Turns out I had these flaps underneath my patella that was causing my knee to catch which was why I couldn't bend it sometimes. So Dr. Traub (love him) cut them off and then gave my knee a tune up-shaved off the arthritis, poked holes in the bone to stimulate cartilage where I was missing some etc.. This brings us to present day training…due to my injury and surgery I missed the 2012 Trials and was really heartbroken. My vision had been to only train until London and then retire and have more babies. Being injured was really dark for me. At one point, I wasn't even sure I would be able to lift again and I thought I was going to have to take up Archery or something (I do own a bow). I talked myself into training more once I completed the rehab process. I was done with rehab at the same time Zygmunt got back from the London Games, so I contacted him and asked him to restart my programming and he agreed. I didn't really know where this training was going to take me. I just knew I didn't want to go out on an injury since everything had been going so great up to that moment,

All that to say, I train four days a week with the lifts. My schedule doesn't allow more time than that, plus I am older than I used to be and I need more recovery time now. Monday is snatch type exercises with front squats, Wednesday is clean type exercises with front squats, Friday is jerk exercises and light snatch and CJ with Saturday being the classic snatch and CJ lifts with front squats…I don't back squat unless it's in a WOD. I always do a mini-WOD after my program and I try to get in at least two more WOD's during the week; it doesn't always happen though. The great thing about WOD's for me is that some of them are super short so I can bust it for like 15 to 20 minutes and be done with it since some days that is all I have for myself, 15 to 20 minutes.

Describe some of the obstacles you face, or maybe some things that frustrate you in your weightlifting life. What kinds of changes would you like to see, either personally or with the sport in general?

I think I have shared some of my obstacles already. My most current obstacle right now is time. I have very little of it. In the fall, especially, my day starts at 7:45 teaching, then we have volleyball practice or a game, help Rex with his homework and before I know it it's 6:45pm and I am just now starting a two-hour training session. I get home around 9:30 put Rex to bed then get ready to do it all over again.

I do think USA Weightlifting needs some changes as a sport. We owe CrossFit a great deal. The birth of CrossFit has only increased our numbers of lifters as well as coaches, and the snatch and clean and jerk are becoming more mainstream. When I was younger, when people found out I lifted the first question was always "What do you bench" and while I still get that question, it is few and far between. It's more like, "Do you do that Crossfit stuff?" I would like to see a happy marriage exist between the two sports. I think they both have a lot to gain from each other.

What are your plans and goals for your weightlifting career? How do you see your future in the sport? Do you plan to stay involved in weightlifting after your top competitive years are over?

My answer is YES! Yes, I have plans and goals for weightlifting-who doesn't?! My goals for lifting have always been open-ended; as long as I am making progress, I keep going. My goal has never been to be The Best, just Better… I love this sport and I envision myself still lifting/coaching at age 90 (assuming I'm still alive). Weightlifting and friends/mentors that it has brought has enhanced my life. It and they have seen me at my lowest and my highest points of life. I hope I can always give back to this community.

Who are some of your major influences, people you look up to, etc.? Who are the people you want to thank for your success?

Major influences…I have a few. I guess I can pretend that I am at the Oscars and just won an award "I'd like to thank John Coffee for always giving me a chance, Zygmunt Smalcerz for putting weights on the bar and your awesomely hard programs, Caleb Williams for just being you, Jane Black for always providing support, Ben Green, Robin Byrd-Goad, Christy Byrd Collins, Christie Green Horton, and anyone who has helped me on this crazy ride that I have been on…Most importantly God and my family, as they have always been the ones to pick me up and push me along. Thank You!" as they cut to commercial.

You deserve that Oscar, Kelly. Congratulations on all of your accomplishments so far, and those of us at Catalyst Athletics wish you many more years of success in all the different parts of your weightlifting life.